Since it was too cold in February to visit and celebrate, we had postponed the celebration of my 60th to the end of April. Since it should be a bit warmer, so you could do a lot outside.
So my sisters, my mom and a cousin set off to explore our new home and surrounding for a week and celebrate with me 😉 Since they flew in via Marrakech and we had no idea yet with the transfer from the airport to the train station, Klaus went there to pick up my family, guide them through the city and safely escort them safely by train to Rabat, while I prepared the "mass camp" at home and did the last shopping for dinner. We could not go, as we had planned at 17 o'clock to eat the traditional Couscous, because the Ramadan was extended for one more day at short notice, because of the moon position and that`s why still everything was closed. So I prepared a big pot of delicious spaghetti with tomato salad, which we enjoyed very much in our home…
Since it was our first Ramadan in the country and also our first Eid afterwards, we were surprised by the fact that even in the first two days following Ramadan, (just, the Eid, which can last up to three days), everything is closed. Restaurants are open only after 6 p.m. at the earliest, the markets are closed and almost totally empty and only very rarely there may be one little shop, which is already open. So in search of our breakfast we had a long walk along all our favorite restaurants still closed, until shortly before noon we found a (mainly for tourists) open restaurant down by the river. The breakfast tasted wonderful 😉
We then enjoyed walking along the coast, marveling at the huge waves and testing the warmth of the water with a short dip into the Atlantic. Strolling for souvenirs we postponed to the days still ahead of us, which we had planned to spend in Marrakesh.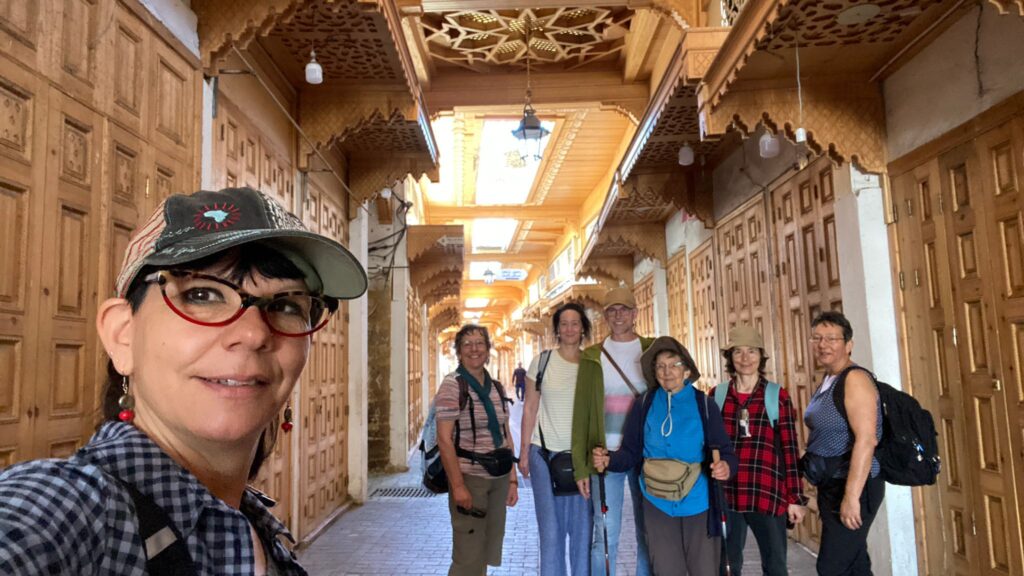 But before that we enjoyed a day of relaxation in my "100% women salon". We six women enjoyed the hammam, massage and pedicure. The two female employees of the salon had quiet a bit of work with all of us and were happy about the many foreign, satisfied customers. They had even prepared coffee, tea and real Moroccan sweets for us. Although this Monday, because of the Eid postponed at short notice actually would have been a holiday, they came especially for us to work and to pamper us….
The next day we went to Marrakesh for four days, where we still had enough time to rummage around in the now reopened markets, find souvenirs and "lose some money". Or just to sit in the coffee at dusk and watch the hustle and bustle on the "Place Jamaal el fna", the tourist attraction place, which wakes up only towards evening.…
Oh yes, the weather was also good. In Rabat still pleasant 22°C (76°F), in Marrakesh then it was hot and dry up to 40°Celsius (104° Farnheit).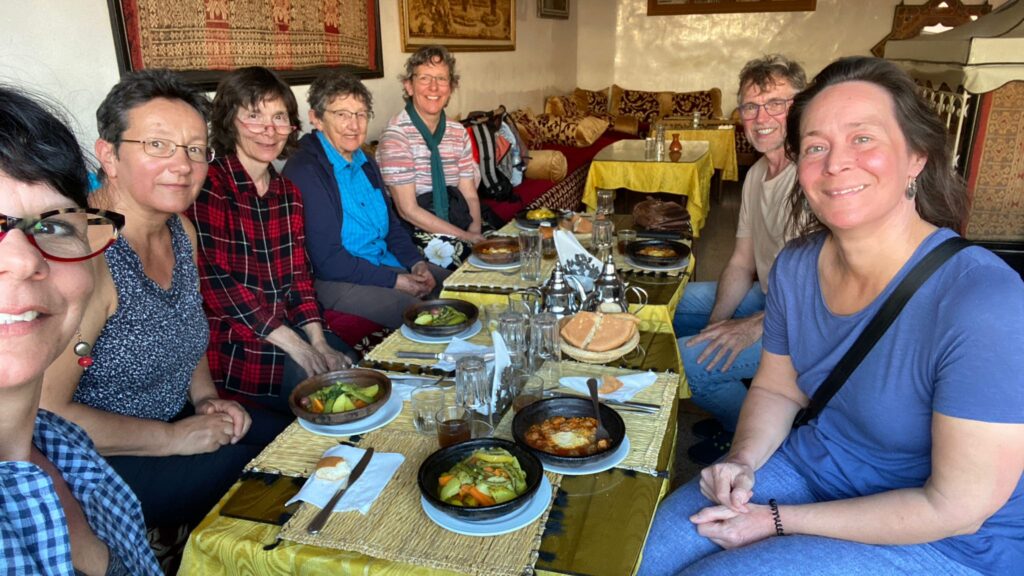 .
It was a full weeks of fun, enjoyment and fellowship that went by almost a little too fast. But one nice souvenir of my "family sixties celebration" remains in addition to a few hundred photos: