December here in Rabat was marked by the World Cup in soccer and the non-existent Christmas tradition. The World Cup soccer championship really set the mood here. Morocco's "Atlas Lions" not only played well, but made it to the semifinals. No team from the African continent had ever done that before. Bravo Atlas Lions!!! In almost all restaurants, the chairs and tables were moved for each game so that everyone had a view of the big or small screens. And after the victories, the cheers and "toots" (trumpets) could be heard for hours all over the city. The streets were full of people rejoicing and celebrating their team. There was almost no way to come through for cars, decorated with flags and waving people in them. The celebrating fans had conquered the streets for themselves and with every victory the celebrations became longer 😉
Christmas spirit has not really moved in with me yet. I do have a small Christmas decoration in the living room and in church we light another candle every Sunday and sing carols, but my Advent routine from "back home", which I have grown fond of, doesn't fit here and I haven't been here long enough to find a new one. But I have already baked Santa Clauses for the sixth of December. We celebrated Christmas Eve with the international community here. We are almost only foreigners from almost 50 different countries… that is a multicultural mixture and just as colorful-different and very tasty was the meal after the Christmas party, we shared together.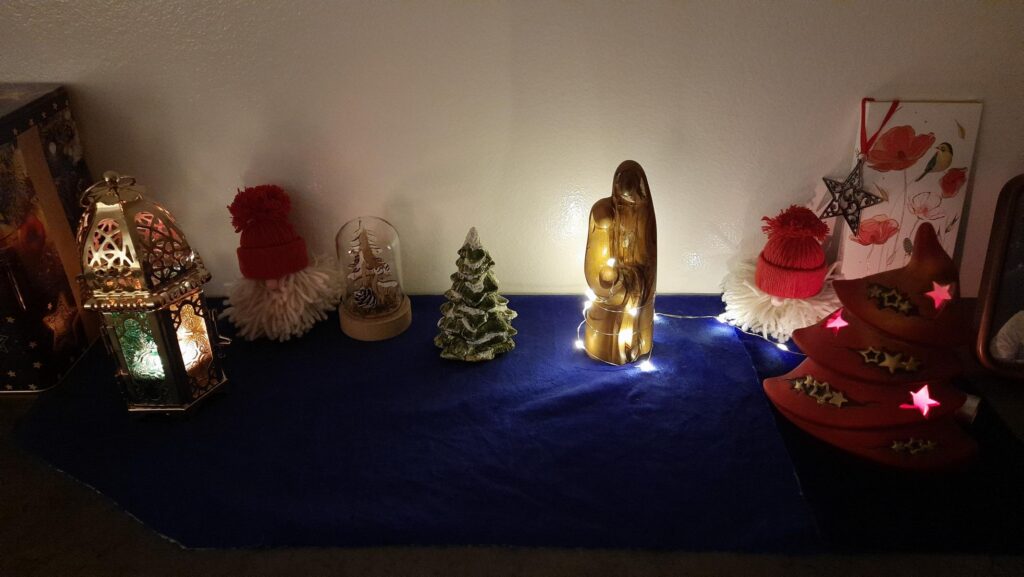 By the way, the Christmas tree with the country flags has nothing to do with soccer. It is the Christmas tree in the church. Each flag shows the home country of one of the visitors.
In all these weeks we have been looking at potential spaces for the business again and again. It feels like there are almost a hundred of them, we already looked at. But the right ones were not there yet. We hope and pray that God will soon open a door for us, so that we can move forward with the business project…..
And then, on December 25, we received the best Christmas present ever: our very first grandchild was born and embraced by everyone (who is close enough around) as a great gift. We have closed him first of all very firmly and gratefully in our heart. We have to postpone the embracing until later. But we can look forward to many photos and signs of life over the Internet 😉